Planning, managing and reporting on projects has never been easier with the new release of edison365projects. With minimal training anyone in any team can seamlessly execute projects and collaborative activities with its intuitive and sleek interface. Defined by your ways of working edison365projects is configurable to your team's requirements and supports all project needs in one system.
Discover the top five features of the new release here:
Customizable standards and templates
Define your planning process and tailor edison365projects to fit your needs with custom templates. Depending on your ways of working and organizations standards, these templates can be made as simple or sophisticated as you want. Adapt fields, tables and forms and incorporate pre-populated data and tasks, all within the admin tab. This ability to create countless project templates is valuable for different teams who have varying requirements and skills. The templates can be created to match those requirements and streamline the process for each team, creating governance and improving project success.
To make the tool even more intuitive, documents can be attached to the templates for support. This also keeps key information in one place.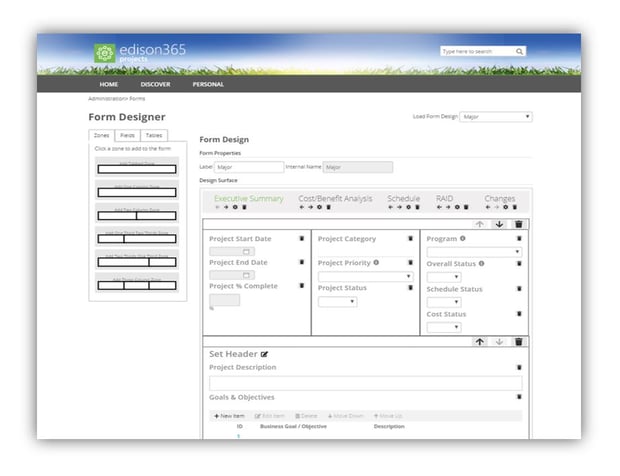 Key benefits:
You define how you manage your projects

Enables governance and standardization

Supports major project life-cycle decisions

Speeds up the planning process




Unlimited Gantt charts
In the new release, you can now create an unlimited number of Gantt charts per project. The Gantt view creates a comprehensive picture that anyone on the project team can easily access and understand, helping you to prioritize, schedule and assign tasks quickly and accurately. This interactive feature also enables you to anticipate dependencies and easily reschedule tasks. Acting as a transparent task management tool, any changes which are made whilst dragging the interactive features automatically update the items, reducing admin requirements and maintaining real-time and accurate data. In addition to the Gantt chart, the project schedule can be viewed as a list and board. In the board view, you can easily view the owner and time left to complete an activity. The status of a task can easily be updated with a drag and drop movement, supporting an agile work environment.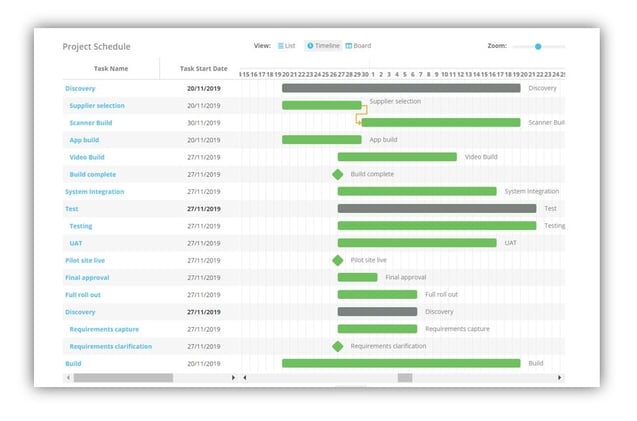 Key Benefits:
Improved team communication & clarity

Simple measure of progress

Avoid resource overload

Promotes transparency




Personal Tab, enhancing visibility
Simplifying your work management, you can now gain a holistic view of all your personal activities in one place. By selecting your personal tab and opening 'My Work' on edison365projects you can manage activities including tasks, risks and actions across every project in a board view. Recognize what is not started, in progress and completed without going back and forth between individual projects and easily make updates to an item by simply dragging and dropping it into a different task status category. This includes projects in draft, in progress and completed, acting as a centralized hub for all projects linked to you.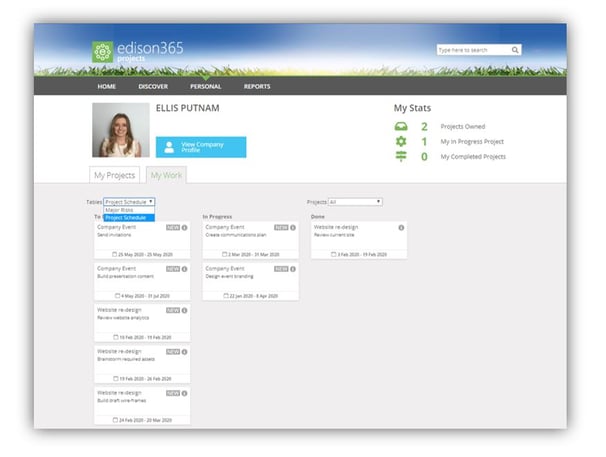 Key Benefits:
Efficient task management

Improved risk mitigation and contingency planning

Increased time saving

Real-time data
Detailed Reporting
edison365projects provides you with complete transparency and the ability to report on anything within the software. Create management reports from edison365projects data using Microsoft Power BI or use any standard management reporting tool. Gain a holistic view across the portfolio or interrogate and drill down by different categorizations to get insight into various project information such as cost data, resource demand and project risks, alternatively report information about various users. With links included within the reporting tool, you can easily go back to source data inside edison365projects when required.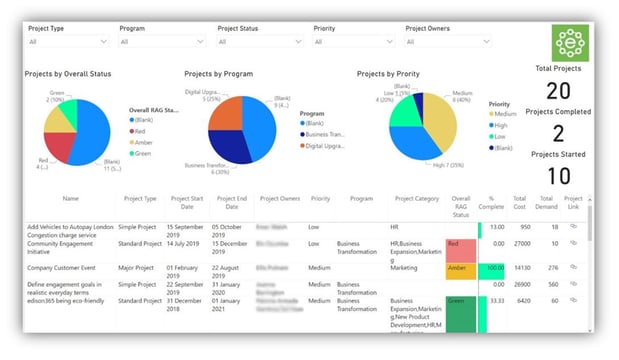 Key Benefits:
Intuitive and easy to understand

Fully inclusive and up-to-date

Key information in one place
Utilize Office 365 capabilities
Built for Microsoft Office 365, the adoption process is accelerated with the use of applications you are already familiar with. Project teams can take advantage of collaboration tools such as Microsoft Teams and Yammer, supporting communication and reducing bottlenecks. This also supports the varied work environments organizations are faced with today and enables everyone to stay well connected. Get up and running instantly and use edison365projects standalone or integrate with third party tools such as Microsoft Project Online.

Key Benefits:
Accelerated adoption process

Maximize existing investment

Improved collaboration
Find out more
Along with these key features, edison365projects has been designed with the user experience at its core. With an easy to use and intuitive user interface, anyone can adopt the software with minimal training. Configurable to your ways of working, you can define how you manage your projects, making it an enterprise solution that everyone in your business is able to use.
To find more about this flexible tool, with it's simple yet powerful configuration, get in touch today for a demo.
Alternatively, sign up to our upcoming webinar to see the tool in action!