Innovation is a key driver for many organizations, it enables them to develop new products, services, processes and remain competitive within their industry. Consequently many organizations have developed their own innovation management systems to support their innovation practices and intended outcomes. Like any other process that impacts the progression of the organization, it must be reviewed to determine success and ensure that value is being generated in the most effective and efficient way. An Innovation Maturity Assessment is a tool that can be used to assess an organizations current innovation management capability and help identify key areas of focus for development. The results provide a holistic overview of your end-to-end innovation process, including factors such as organization, strategy, leadership, organizational culture, collaborative abilities, enabling factors and the results achieved from the innovation process.
Why complete an Innovation Maturity Assessment?
Many view innovation as a predominately creative practice, and organizations sometimes have difficulty creating a structured innovation process that delivers repeatable success. An innovation Maturity Assessment is designed to act as a point of reflection, helping organizations define processes by placing their existing approach to innovation under the scrutiny of industry standard. The assessment provides organizations with the opportunity to review their established way of acting, helping to identify their strengths and any absent innovation capabilities that need to be developed and adopted. Furthermore, the results from an innovation maturity assessment can provide definable and systematic suggestions to embed all elements of an innovation management system across the organization, making it easier and faster to drive change.
Innovation Maturity Assessment by edison365
edison365 has designed an Innovation Maturity Assessment to provide organizations a holistic understanding of their current innovation management system. Aligned to the ISO 56002, this assessment contains a set of comprehensive questions representative of each area within their framework (see below). The ISO 56002 on Innovation Management is a guidance standard that details the specific factors that contribute to the establishment, implementation and continual improvement of an innovation management process. It focuses on the specific principles needed for successful innovation management such as the realization of value, future-focused leaders, strategic direction, culture, exploiting insights, managing uncertainty and adaptability so that organizations can determine success no matter their approach.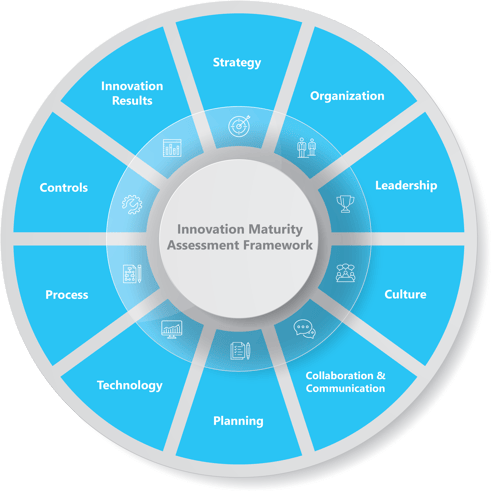 (edison365 Innovation Maturity Assessment Framework)
What are the benefits of completing the edison365 Innovation Maturity Assessment?
With questions aligned to the ISO 56002 organizations can ensure that their innovation management system will be assessed in-depth and will interrogate the different interacting and interrelated elements that will make up their approach to innovation. Reviewing their innovation management process in such a way will enable organizations to recognize how they currently score against innovation management best practice. This offers insight into the potential their process could have given the right steps.
Benchmarking an organization's current position also helps identify the key areas that are needed for improvement. Within the results, edison365 breaks down the sections established by the ISO 56002 to ensure that organizations understand where specifically they can focus efforts to improve their innovation process, and what best practice looks like. Furthermore, from this point organizations can leverage their current maturity to develop roadmaps for their next steps and begin to drive necessary change and disruption to become a leader in innovation.
Take the assessment now
You can complete the Innovation Maturity Assessment today, in three easy steps:
1. Take Assessment: In less than 15 minutes, answer ten sections aligned to ISO 56002 about your organization's current innovation performance.
2. Review your scores: Immediately identify your strengths and weaknesses while understanding your current innovation maturity score for each area of our framework.
3. Annual Benchmark: Register to receive an annual innovation maturity benchmark, enabling you to compare your current innovation maturity with peer organizations.