Integrated with Office365 and offering a centralized view of all your innovation efforts edison365ideas supports your organization to establish a seamless and easy innovation process. With collaboration and innovation at its heart, edison365ideas is an open forum through which employees can contribute ideas. Structured, transparent, collaborative and easy to use, edison365ideas encourages ownership of an idea to engage your entire organization. Here are some of our top features for edison365ideas, including recent updates:
Gamification:
Engaging employees is essential to driving adoption of your software within your organization. edison365ideas supports this through the Gamification feature. The points system enables employees to be recognized for their engagement and contribution. Points can be earned accordingly to the actions that they've completed. These points can then be redeemed for greater rewards, these can be financial or otherwise; for example, a reserved parking space at the front of the building or a Friday afternoon off. The strong user experience of gamification drives consumption past initial adoption and turns it into a daily activity for your employees.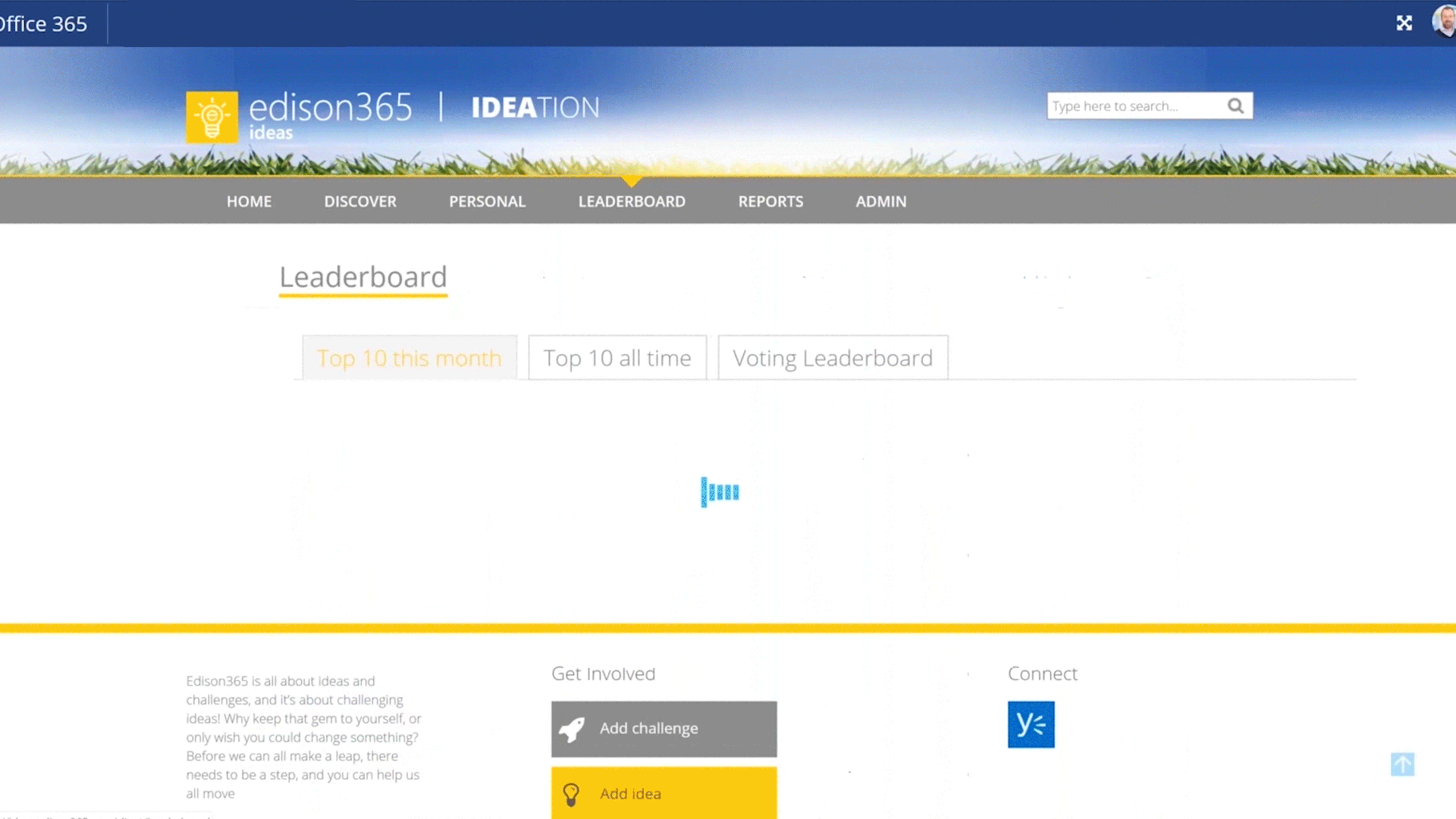 Key benefits:
Points system is fully configurable
Leaderboard encourages a fun, competitive spirit amongst employees
Vote on ideas to identify popularity and demand.
Ideas Triage
With the Triage feature, members of your organization can rate ideas against KPIs that matter to your organization. These fields are completely configurable to your organization, for example they could be Cost, Risk, Impact, Achievability, Revenue. A configurable triage experience means that it can be tailored to how you want your organization to work. Measuring against these KPIs offers insight into how possible solutions align against your strategic priorities.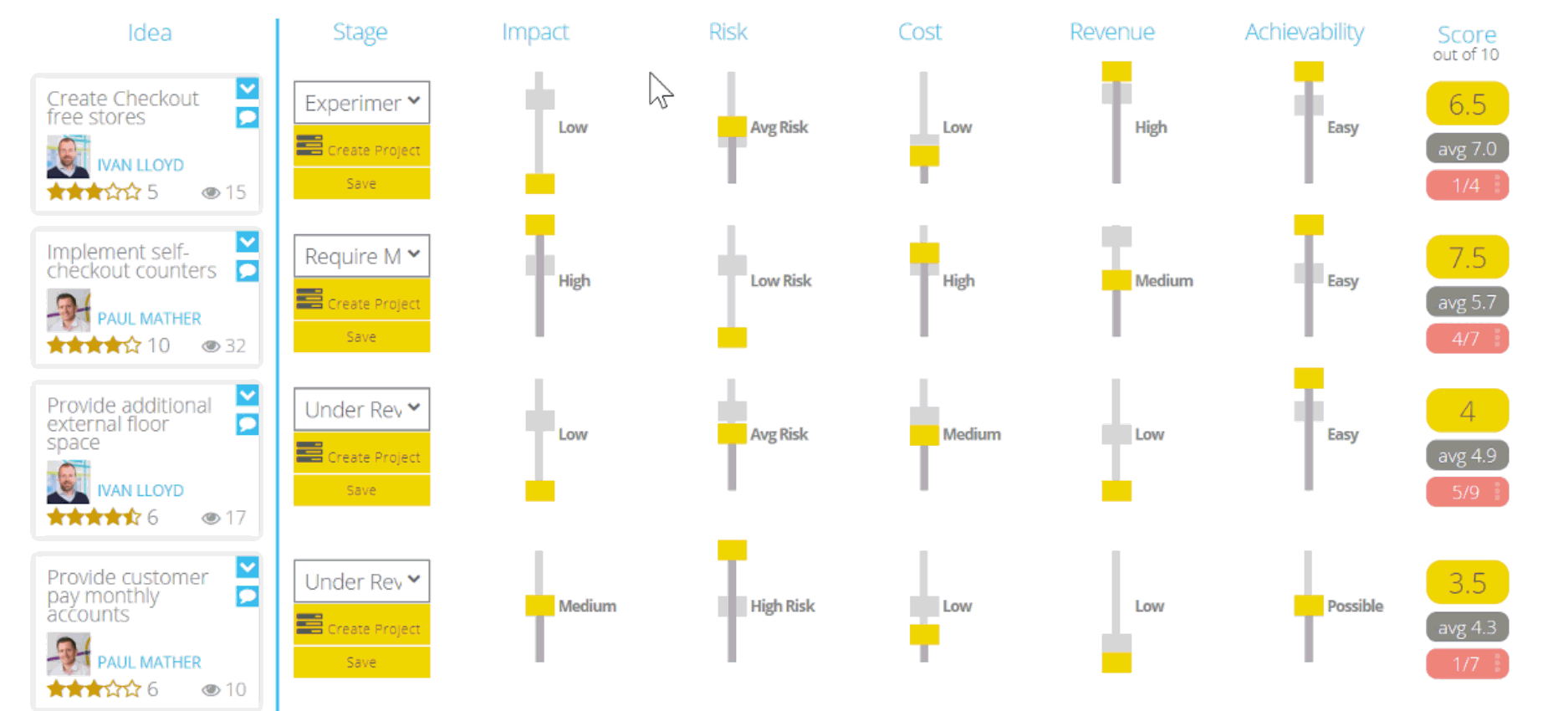 Key benefits:
Intuitive and easy-to-use design
Fully configurable for your organization
Quickly and easily evaluate ideas
Promote transparency around the key factors impacting your organization.
Audience Targeting
Creating a community and encouraging collaboration is a key driver to successful innovation. Along with the ability to comment, share, subscribe and contribute to each other's ideas, a new feature update enables organizations to establish different audiences or interest areas. Users can be automatically entered in an audience group, or they can request to join those that might be of interest to them. This creates a filtered view of ideas and challenges on the homepage that are relevant to those audiences and interests Users can still collaborate with those outside their audience groups and view all challenges and ideas that have been submitted within the organization through the discover page.
Key benefits:
Manage challenges and ideas across audiences in a singular, centralized system
Keep updated on any idea through the discovery page
Enable communities to collaborate and develop ideas with insight from different departments.
Open Innovation
The recently launched Open Innovation solution leverages edison365ideas to harness the collective intelligence of your external stakeholders and create an innovation process that includes your organization's entire ecosystem. With Open Innovation it is now possible to post challenges externally, whilst also continuing the process internally to gain insight from employees, suppliers, customers or anyone that may have an idea that can benefit your organization.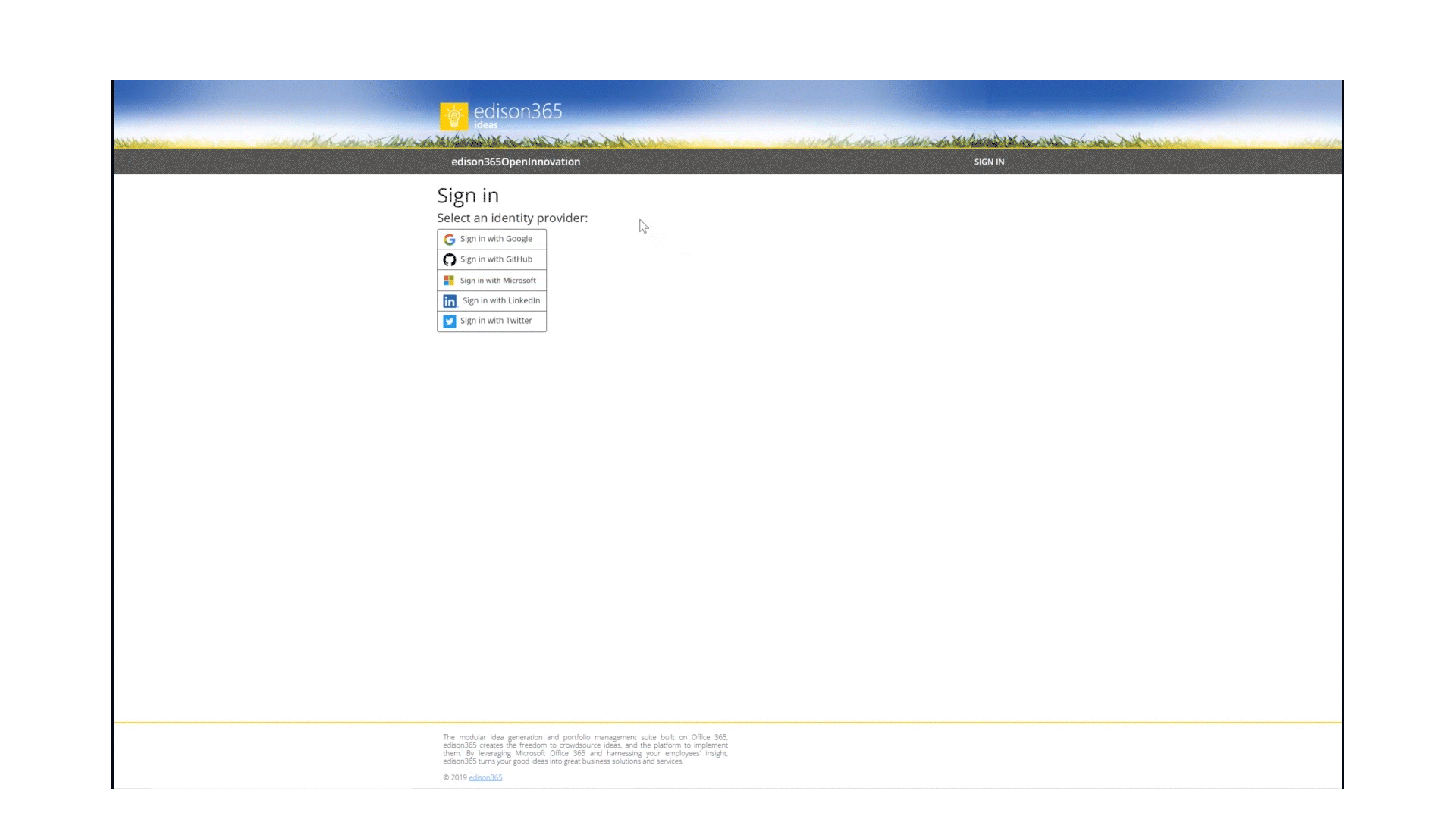 Key benefits:
Enables collaboration throughout your ecosystem of stakeholders
Easily accessible for external parties with social authentication
Retain and store your own innovation data securely for analysis and scrutiny of viability
Enable collaboration between external parties, or privatize ideas so that contributors can only see their own.
Configuration
edison365ideas is completely flexible, enabling your organization to rebrand and configure the tool so that it matches your organization's desired layout. Along with the branding, edison365ideas enables your organization to create its own innovation process with configurable forms, stages and triage KPIs. Adapt your ideation and innovation to suit your ways of working and maximize the potential of your employee's feedback and insights.
Key benefits:
Have the software represent your brand, making it feel like an integrated part of your organization.
Gather the information that matters most to you
Stages reflect how your organization wants to progress ideas.