The term business transformation has been around for many years but what does it really mean? Business transformation refers to the process of making fundamental changes in how an organization runs, to achieve measurable improvements in efficiency, effectiveness and stakeholder satisfaction. Harvard Business Review[i] describes three types of business transformation, these being:
Operational – Making changes to the way you currently do things to make operations better, faster, or cheaper. Often achieved with digital technology.

Core transformation – Moving to a fundamentally different way of operating.

Strategic – Changing the very essence of the company to a new focus.
In today's global market it would seem that business transformation is unavoidable, with drivers including cost reduction, shifts within markets, new technologies, lack of business growth, rising customer expectations and so on. It is not only necessary to survive in today's competitive environment but also thrive, a Forbes Insights/ KPMG report claims that 93% of more than 900 respondents surveyed said they have just completed, are planning or are in the midst of a business transformation.[ii] However, achieving business transformation is not easy and many organizations fail in the process.
At edison365, we propose a new model for innovation and execution to ensure successful delivery of business transformation. This model comprises a single entity responsible for the entire transformation journey, combining Innovation and Portfolio Management into a single office, known as an Innovation and Portfolio Management Office or IPMO. By adopting an IPMO, organizations maximize the agility achieved from innovation and the structure of portfolio delivery, championing the best of both with a learn fast culture and a long view of benefits assessment, from business case to realization. To learn more about the justification for an IPMO, take a look at our White Paper: Innovation and Portfolio Management Office.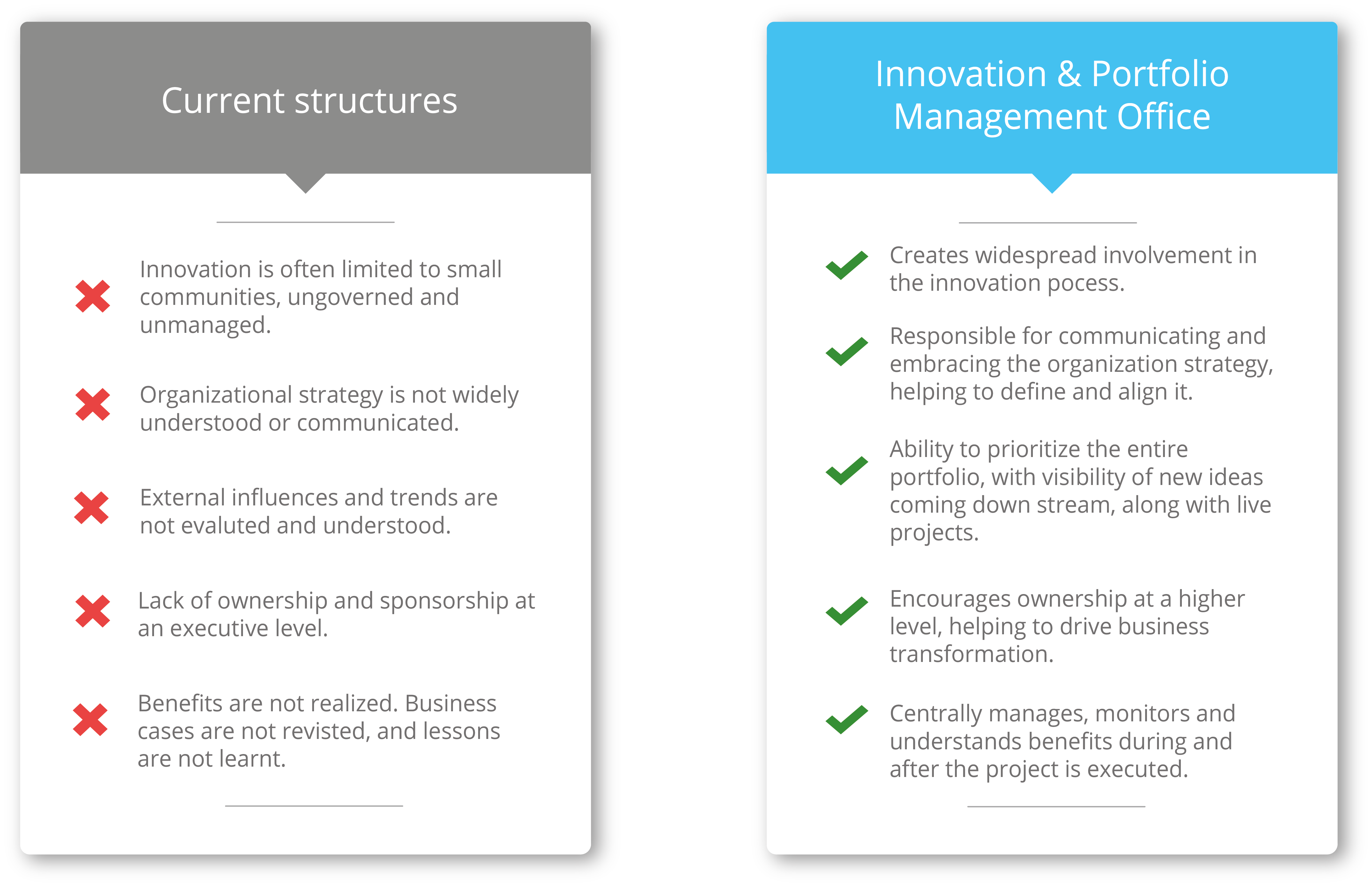 Business transformation starts with strategy, which is why the proposed IPMO must work with senior leaders to define and align the overall organization strategy. They should also take responsibility for communicating the strategy and making sure that it is clearly understood by all employees, in doing so, this helps to ensure the right business ideas move forward. Introducing an IPMO further encourages ownership at a higher level, resulting in deeper leadership commitment which can help accelerate and drive change within the organization. Having buy-in from all stakeholders and being able to facilitate effective communication is further essential for transformation success. Managers and employees everywhere in the organization need a transparent and up-to-date view of what is going on, what challenges need solving, what is working well, and what and when they need to take action. The IPMO provides that transparency, breaking down barriers between the innovation and portfolio management offices which may have previously resulted in loss of information and instead generating visibility of the pipeline. This enables project professionals to become more proactive, taking advantage of disruption, rather than just reacting to it. To fully understand the design principles of an IPMO, take a look at our second White Paper: IPMO sets high ambitions for Innovation delivery, written by our Chief Innovation Officer, Ivan Lloyd.
The edison365 suite provides the tools to support an IPMO, from idea generation, business case justification and project execution, further ensuring that benefits are realized once the project is complete with end-to-end reporting in a centralized location. Built for Microsoft Office 365, users rapidly adopt the software using tools they are already familiar with, benefiting from complete transparency and effective communication with Teams and Yammer integration. If you would like to find out more about edison365 or how we can support an Innovation and Portfolio Management Office within your organization, send an email to hello@edison365.com or Contact us here.

[i] https://hbr.org/

[ii] https://www.forbes.com/sites/forbesinsights/2014/03/18/4-steps-to-a-successful-business-transformation/#7da9799c1807